I have Samsung's big bad Galaxy S23 Ultra in hand, and I have switched from one iPhone 14 Pro to Samsung's beast. I have to say I have switched back as I rotate between Galaxy and iPhone devices occasionally. It has only taken a few days to enjoy what I had been missing. The Galaxy S23 Ultra has tons of useful features that the iPhone won't match, and many of them are already part of my regular routine.
When I write about the differences between best iPhones and best samsung phones, certain stereotypes reappear. iPhone is simple and elegant; it does more work for me behind the scenes. The Galaxy is robust, with tons of features buried throughout.
What does that really mean? What kind of useful features do Samsung Galaxy phones have? Every smartphone is essentially the same these days, with the same components and the same apps. Are there really more than a few differences that could make using the Galaxy S23 Ultra that much better?
Yes absolutely. If you know where to find them. Unlike Apple, which gathers all the settings for the phone and all the apps under a giant list menu, Samsung has placed functions and hidden options. If you see the words "Advanced Settings" on a Samsung phone, you've hit paydirt.
The Galaxy phones feel like an escape room. You must unlock the hidden doors to find the combination for the treasure safe. With that in mind, let's get started. These features are very fine starting with my favorite but I use every one of them.
The S Pen is a wand and also a camera remote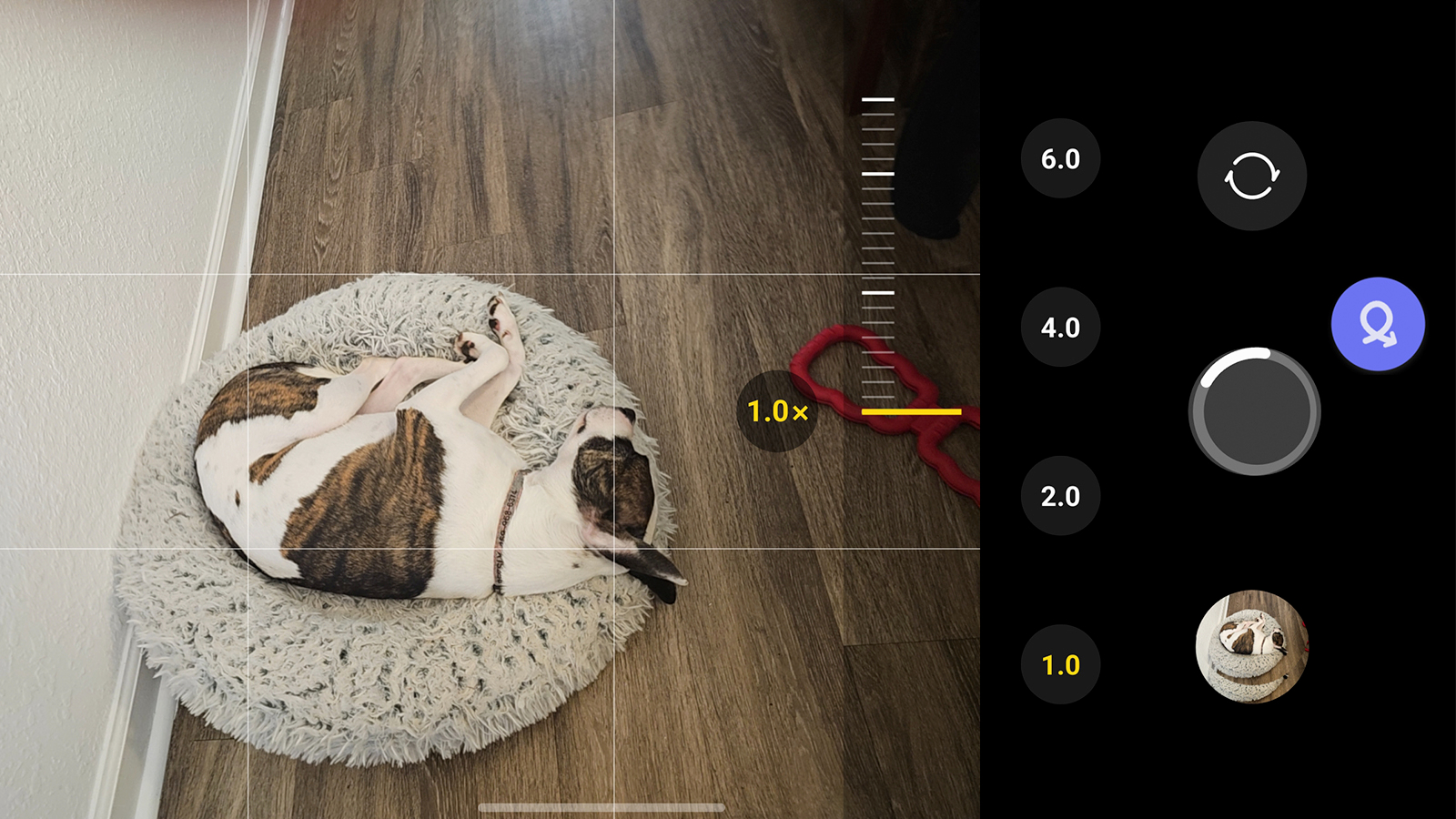 Open Settings: Advanced features
Select S Pen: Air operations; be sure to press the left side of the "Air operations" option
Start with Cameraand then explore all the apps that use S Pen gestures
I appreciate referring to Samsung's glorified stylus as an S Pen at the moment because it's earned its own title. It's not just a stylus. There's also a Bluetooth remote that can control apps on your phone. It has an accelerometer built in, so there is motion detection. That means you can wave your wand in the air and your apps will respond.
Oh, and it's also water resistant, even the click cap that you can click to your heart's content, even if it doesn't do much more than just click delightfully. Seriously, Samsung could have removed the click. That would make the S Pen cheaper and easier to build. It still clicks.
My favorite S Pen remote control feature is so simple. You can use it as a remote control for the camera. I paid $25 for mine Nikon D750 remote control. The Galaxy S23 Ultra includes a free, in the pen.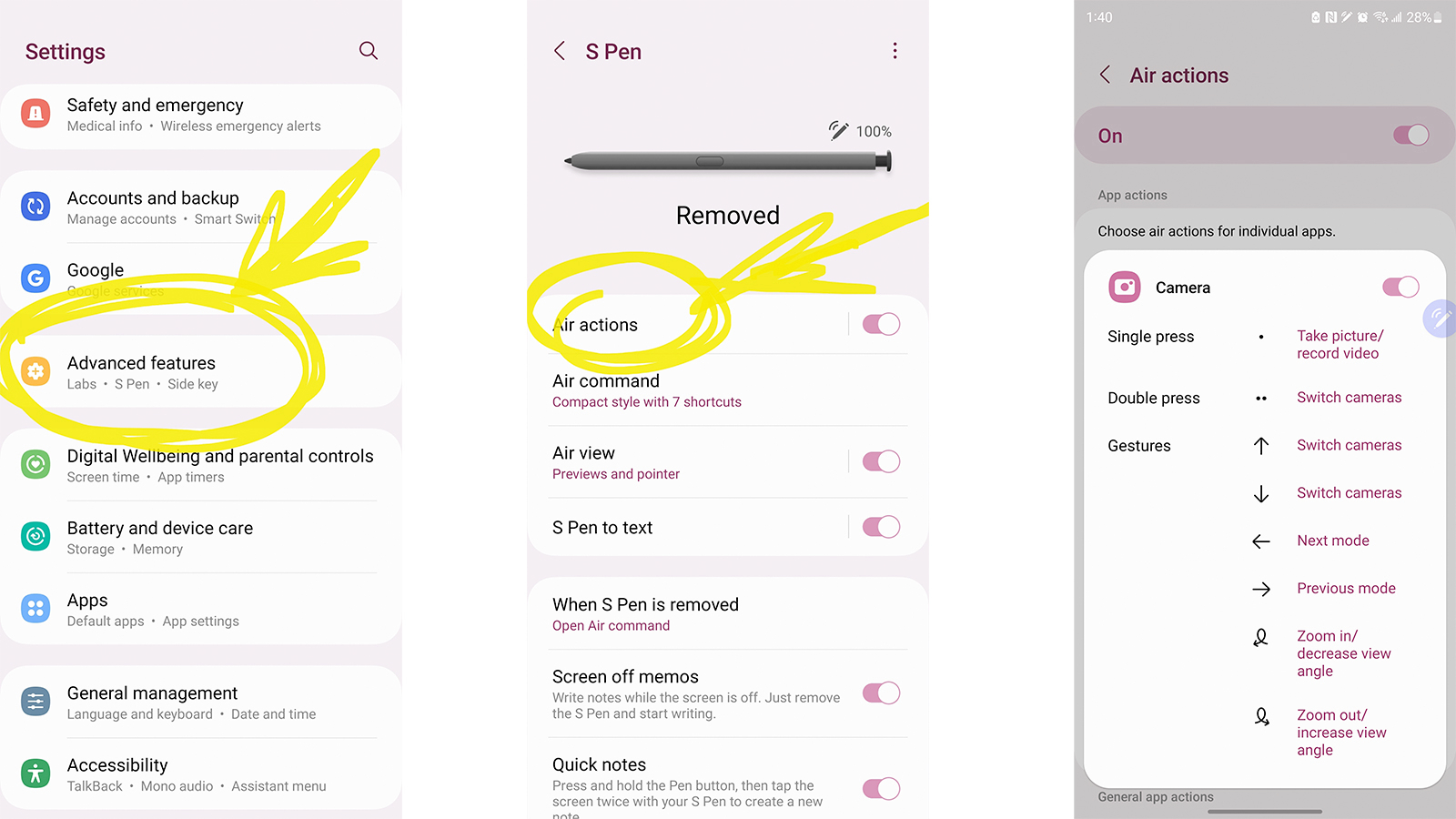 Oddly enough, you don't activate this feature through the camera. You need to go to the Settings menu and then select "Advanced Features". Under that menu, look for "S Pen," and the first option is "Air actions."
Here you'll find the option to use the S Pen as a camera remote, or use gestures to switch cameras and even zoom in on you or your subject.
You can also use the S Pen as a remote control in other apps: PowerPoint, for example. With a button press or two, you can go forward or backward in the slide show. Again, I've paid for accessories that do this, but the S Pen includes it.
Bixby can adjust your phone settings and save time
Hold down the side button
Tell Bixby which settings to change
If you want to turn this off, go to Settings: Advanced features: Side key
I hate adjusting the settings on my iPhone. I hate it. I hate turning on Wi-Fi hotspot every time my kid wants to connect to their tablet, then remembering to turn it off again. It's a chore. I hate changing the screen timeout every time I want to cook from a recipe. It's boring. So many steps.
I probably feel that way because of Bixby. I do not adjust the settings manually on the Galaxy S23 Ultra. I get Bixby to do it. I hold down the Bixby button (yes, the one that most experts probably turn off) and I say "Bixby turn on my Wi-Fi hotspot" and Bixby does it. "Bixby set my screen to 5 minutes," and Bixby does.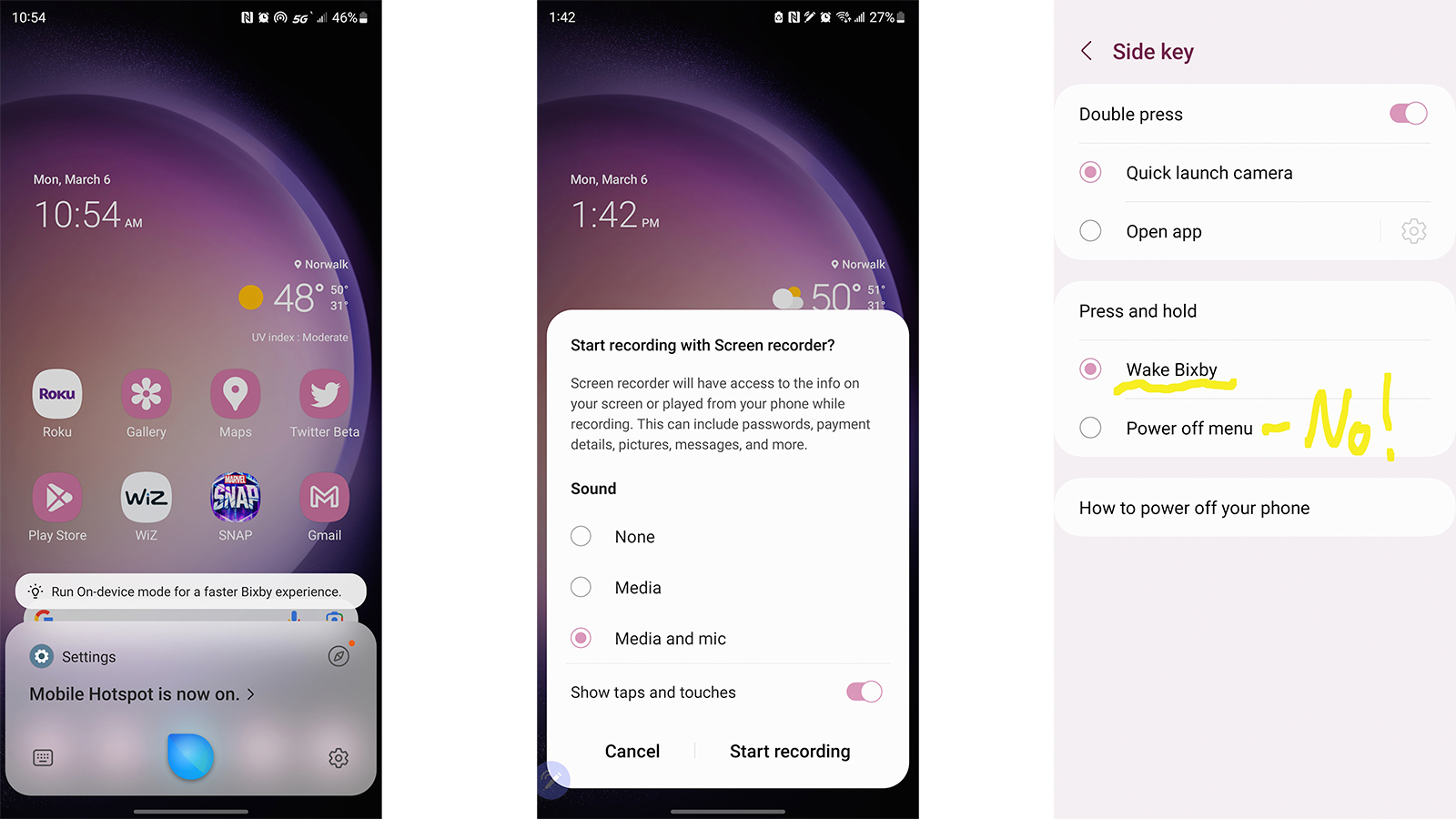 Why can't Siri do this? Siri can tell me the net worth of Will Smith and Chris Rock, but it can't turn on power saving mode? What's the point?
Bixby used to be intrusive and persistent, but now you can turn it off if you want, or you can just use it as intended, to control your phone. It is not a personal assistant. It's just a better way to change your flashlight.
Take notes on the screen without waking the phone
With the screen off, remove the S Pen from the silo
Type on the screen, then press "Save" to Samsung Notes
Open Samsung Notes; then open Settings to sync with OneDrive or Samsung Cloud
I usually forget that the Galaxy S23 Ultra has an S Pen until I really need it. Then I need it in a hurry. I have something to write down or I will forget. I need to make a quick doodle or a diagram, or just type without the hassle of the tiny keyboard.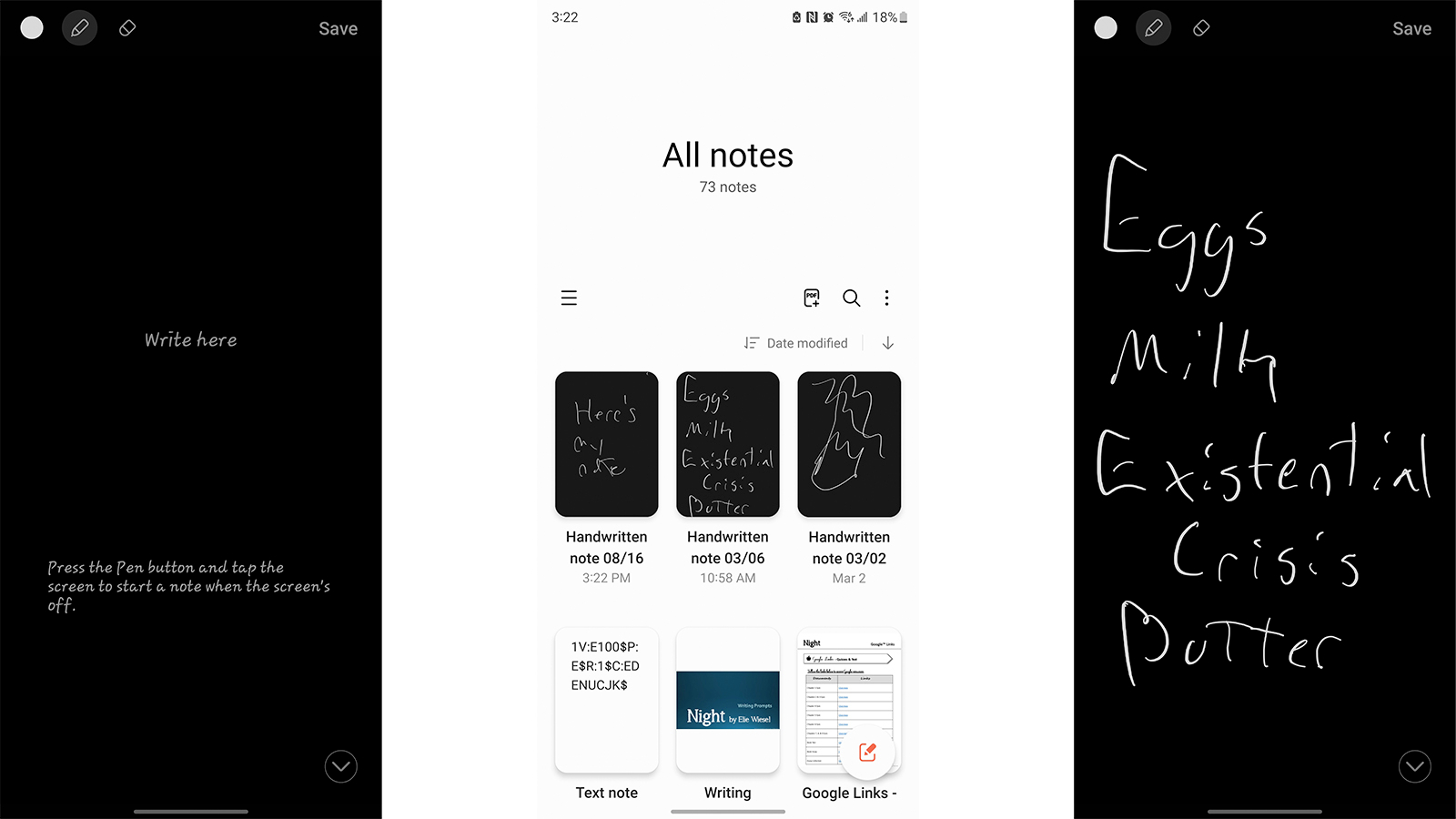 The S23 Ultra won't get in the way. I take out the pen and start writing. I don't need to open my notes app. I don't have to take off my sunglasses for Face ID. I can just type and it will save my note properly.
It even does a good job of handwriting recognition later, if I feel so inclined. My handwriting is terrible chicken scratch, and the S23 Ultra guessed every word in my simple note-taking tasks.
Notifications can be full pop-ups
Open Settings: Alerts
Select "Advanced settings"and so"Floating notifications"
Choose your style, then choose which apps can float notifications
Last night I ordered Uber Eats and I waited for my food while surfing the web and playing Marvel Snap. On an iPhone, I had to jump back and forth between apps to check the progress of my food. On the Galaxy I kept my game open all the time, no problem.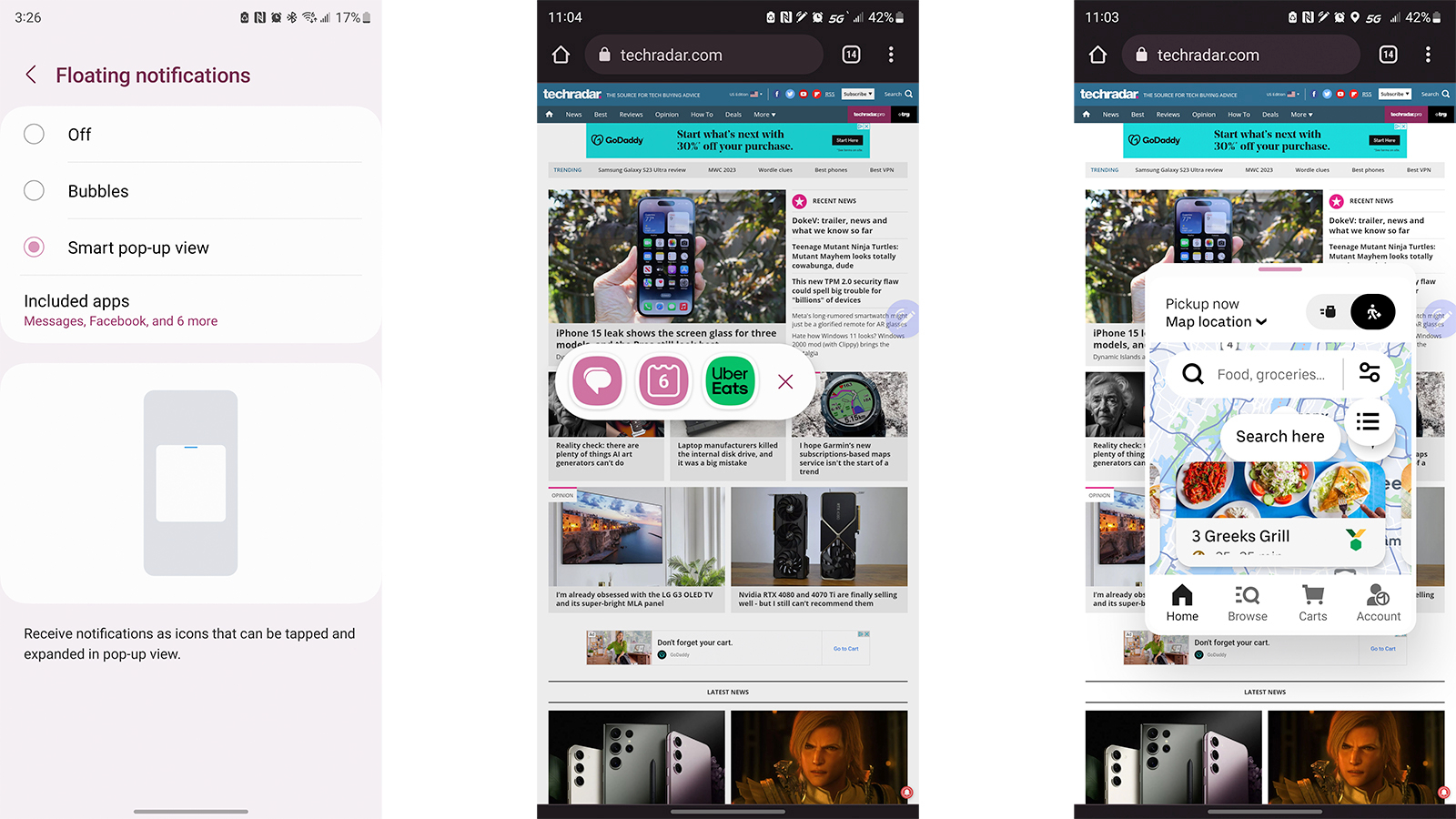 My Uber Eats order was a pop-up bubble on the screen. When I wanted to check the progress, I tapped the bubble and a small window opened. It's the Uber Eats app that just runs in a popup. I see my food on the map, tap the window and minimize it to a bubble again.
This is great for Uber Eats, but it's also useful for notifications. If I get a text message, I can leave my website open but open the message in its own window for a quick reply. No need to use a canned proposal, I get to see my conversation.
Samsung does the best job with multi-window features of any manufacturer, but I especially like the way these pop-ups are used to streamline notifications. You can choose which apps, if any, offer a popup. Samsung even lets you color-code your notifications to look for any keyword you choose, such as "Pizza" or "Love."
You can shrink the screen to hide the camera hole
Open Settings: Show
Select "Camera cutout"
Apps adjust automatically, and you can manually set an app to avoid the camera
I hate Dynamic island on the iPhone 14 Pro, and it seems iOS apps and developers feel the same way. The island is always in the way of my apps. Apple finally promised to use the camera cutout, but instead it has become even more of an embarrassment. Worse, it's a nuisance at a premium price.
Browsers have problems with the dynamic island, especially if you hold the phone in landscape mode. It gets in the way of games, photo editing and other apps. Apps flicker and flicker around it sometimes, unsure which side of the gap to land on.
Samsung has a punch hole cutout, but if there's an app that gets in the way, you can easily avoid the problem. Galaxy S23 Ultra lets me select bad looking apps with a hole. For these, I might opt ​​for a simple black notification bar at the top, old school style. The camera disappears. The app is uninterrupted.
It's a simple feature and once I set it, I can forget about it. I have inserted my image gallery to avoid the hole and my screen looks much better this way.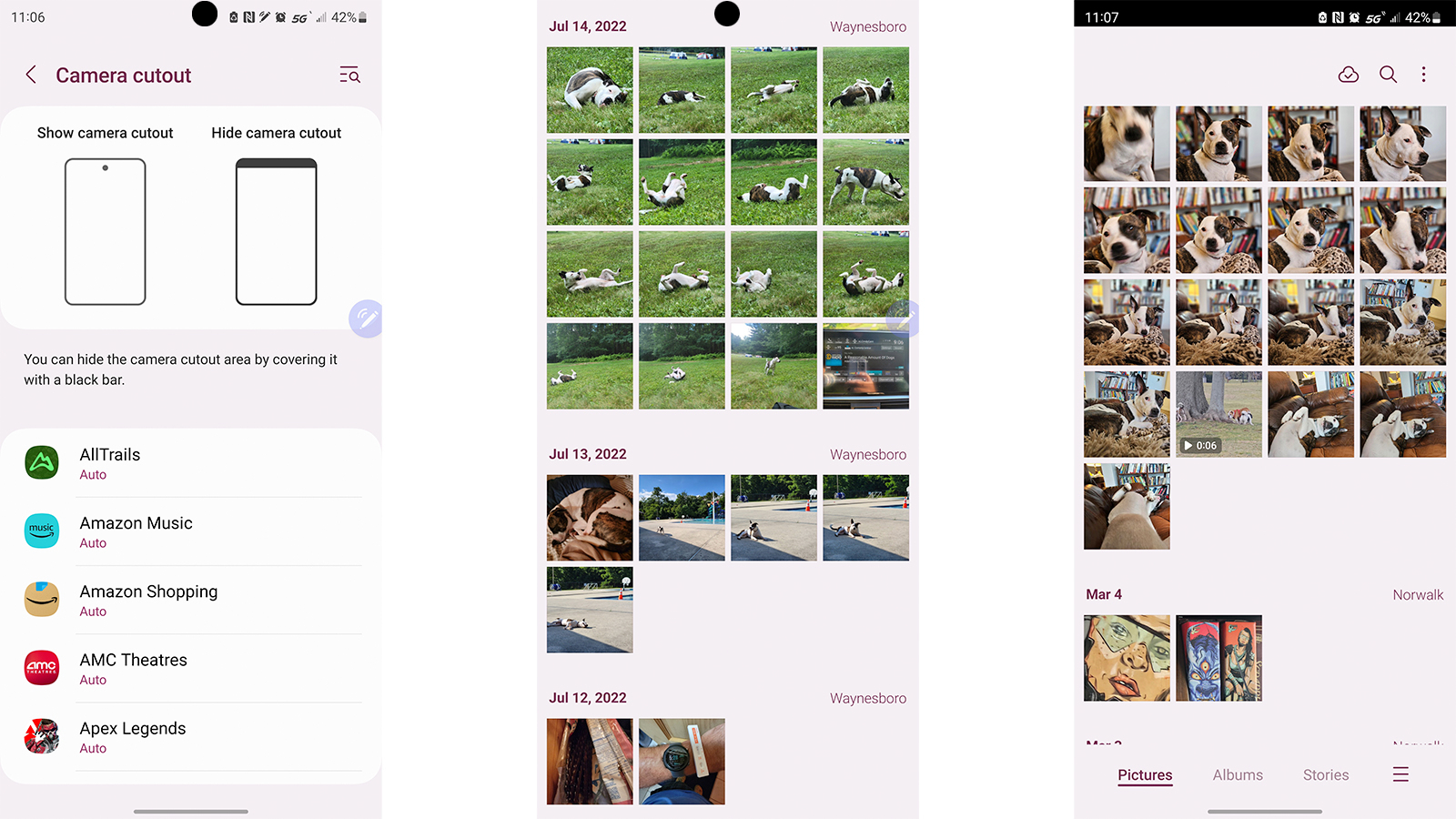 Edge panels are useful in practical situations
Open Settings: Show
Press "Edge panels" switch ON, then press "Edge panels"
Choose and customize your panels as well as the panel tab
There are some shortcuts we expect on a phone, like a shortcut for favorite callers, or a shortcut to open an app or feature. The Galaxy S23 Ultra edge panels have these shortcuts and the usual kind of weather and news widgets, but they go so much further, it's almost uncanny.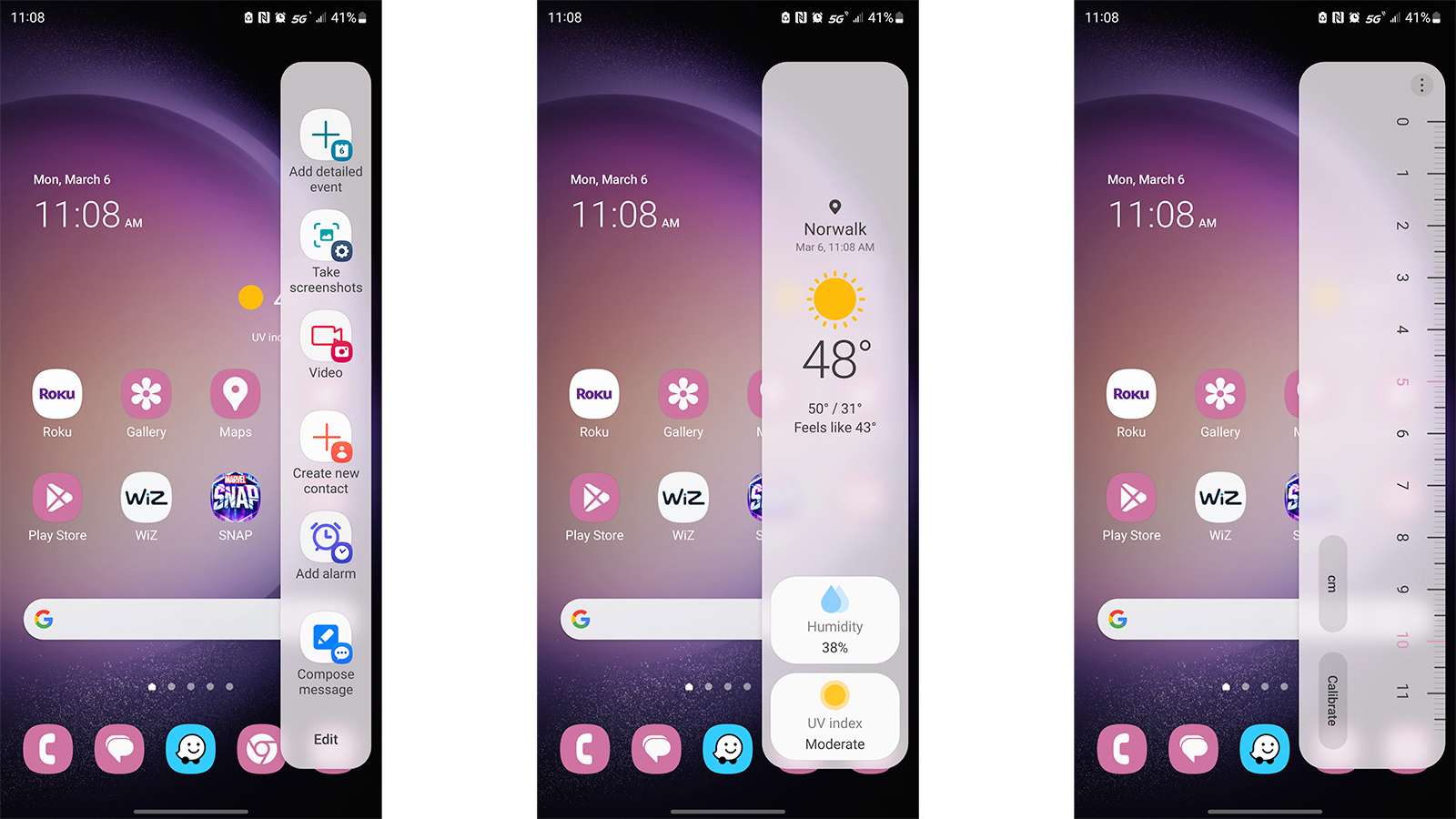 There is a ruler on the Galaxy S23 Ultra. Not like Apple's weird and unreliable measurement tools that use the camera and depth sensors. I mean, like a little ruler with a dozen centimeters or half a dozen inches. You hold the edge of the phone against something and just measure it. With ruler.
Of course why not? Why don't all phones have a ruler app built into the side of the phone? I have used this during baking to measure out a three inch circle. I used it while hanging blackout curtains to see how much space I had from the ceiling. I have a ruler on my phone and I actually used it.
Samsung features are getting better and they're not going away
Samsung phones are full of features, even overloaded. Every year, new features are added, and the old ones rarely disappear. They're getting better, even.
Edge panels originated with the Galaxy S6 Edge. The phones don't have the extremely curved edge anymore, but the feature remains, slightly refined and more customizable.
Are there too many features? Maybe, but one lesson Samsung has learned is knowing when to turn off by default, and when to make it easy to avoid. Even Bixby, which once dominated its own button, now bows its head if you prefer to use that button for Power alone.
Diving into the Galaxy S23 Ultra is a blast, and I'm sure I'll have more to show you once I discover what Samsung has buried deep in the vaults of this device.