Pokemon Go Vivillon Map, Vivillon Patterns and How to Get Scatterbug Explained
Vivillonalong with the pre-evolutions Scatterbug and Spewpa from Gen 6, was released in Pokémon Go during the season of mythical desires.
There is also a wide range of Vivillon patterns to collect in Pokémon Go, and to help you catch them all, we've included one Map of the Vivillon region.
Before you can start showing off your Vivillions, however, you first need to know how to get Scatterbug!
On this page:
How to get Scatterbug in Pokémon Go
To catch a Scatterbug in Pokémon Go, you must first have a collection of friends who regularly send gifts in your friends list.
When you receive a gift, you will must attach the postcard that comes with it before opening the gift. This is done by pressing the small pin next to the 'Open' button when you look at the postcard.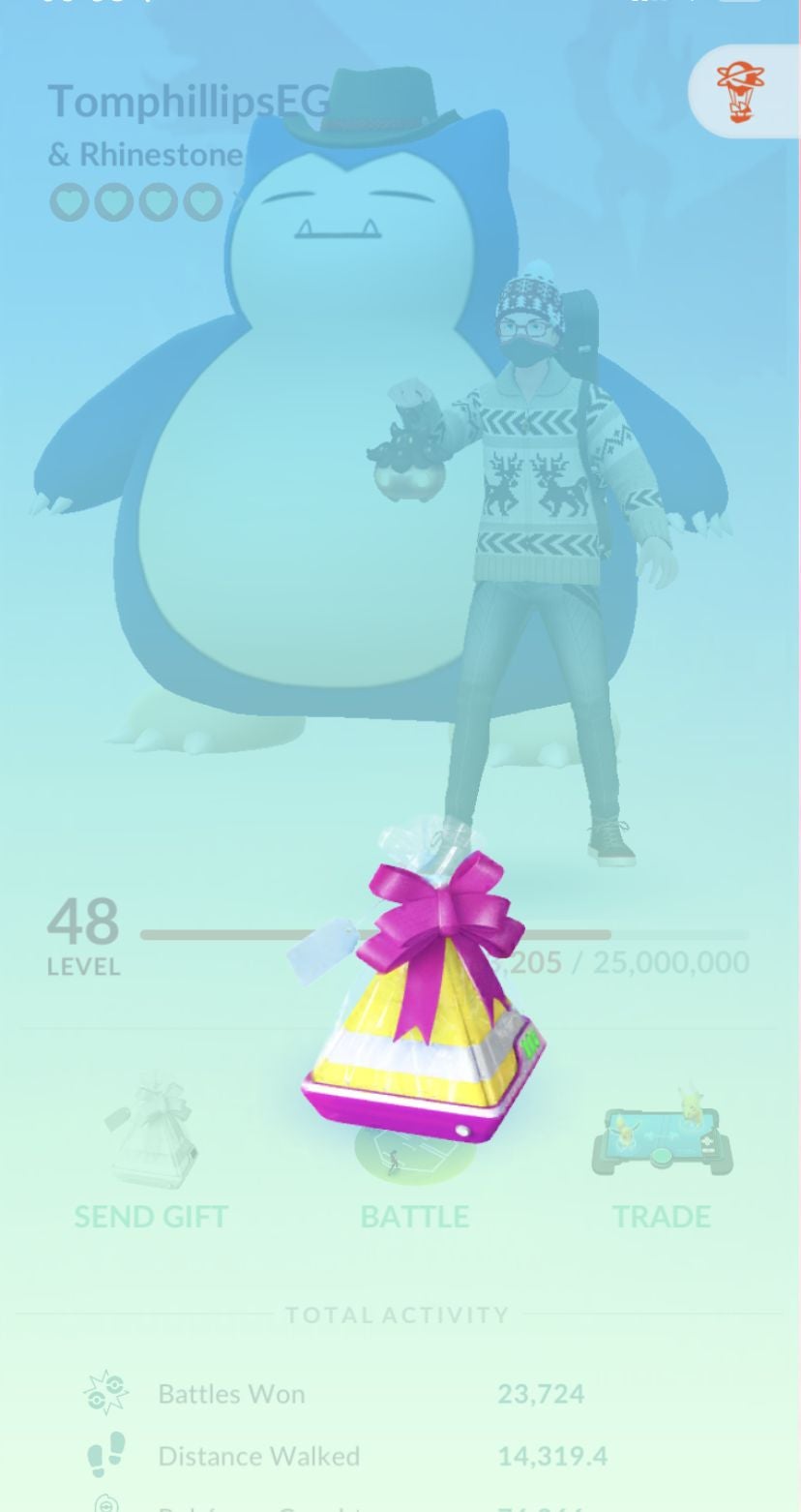 Attaching a postcard will add progress to the Vivillon sub-medal associated with the region the postcard came from. So if you pin a postcard from a UK PokéStop, you'll gain progress on the Garden Vivillon pattern sub-medal.
Remember – you can only pin a postcard before opening a gift, so if you forget to do so, you won't earn progress for the postcard's matching Vivillon pattern.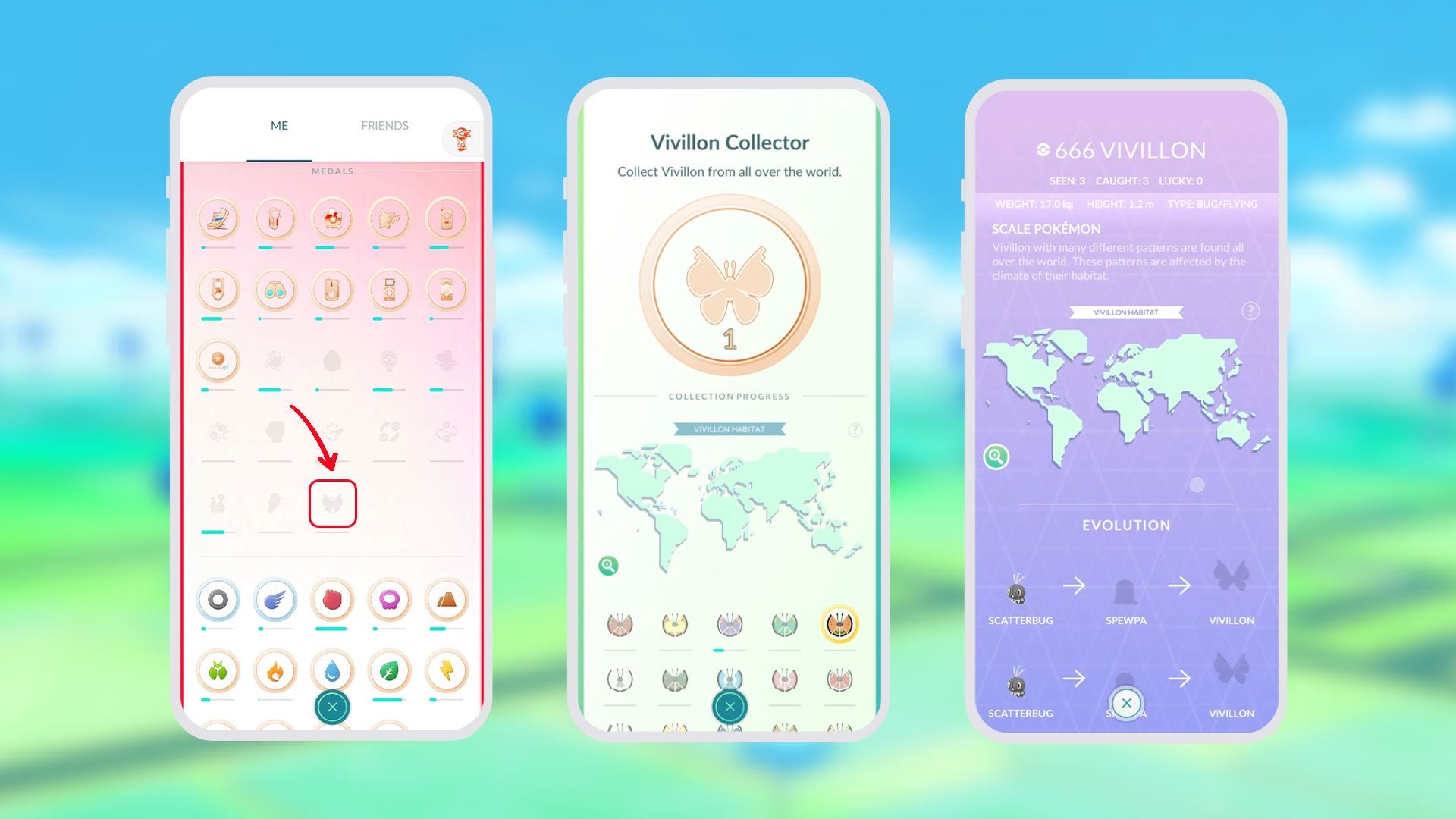 You will earn a Scatterbug encounter after pinning a specific number of postcards from a Vivillon pattern's associated region. The number of postcards required increases each time you unlock a Scatterbug encounter.
For example, if this is your first encounter with the Garden Vivillon pattern, you need to attach three postcards from one of the regions, which are Great Britain, Ireland and New Zealand. For your next Garden Vivillon pattern, attach nine postcards from these regions.
You can also track your progress by selecting the Vivillon Collector medal from the avatar screen and scrolling down to find the individual sub-medal for each Vivillon pattern.
Once you've reached the required number of pinned postcards, you'll receive a notification informing you of which Vivillon pattern you've unlocked a medal for. By selecting 'OK' you start the Scatterbug encounter. This is quite useful, because it means you don't have to find Scatterbug on the overworld map!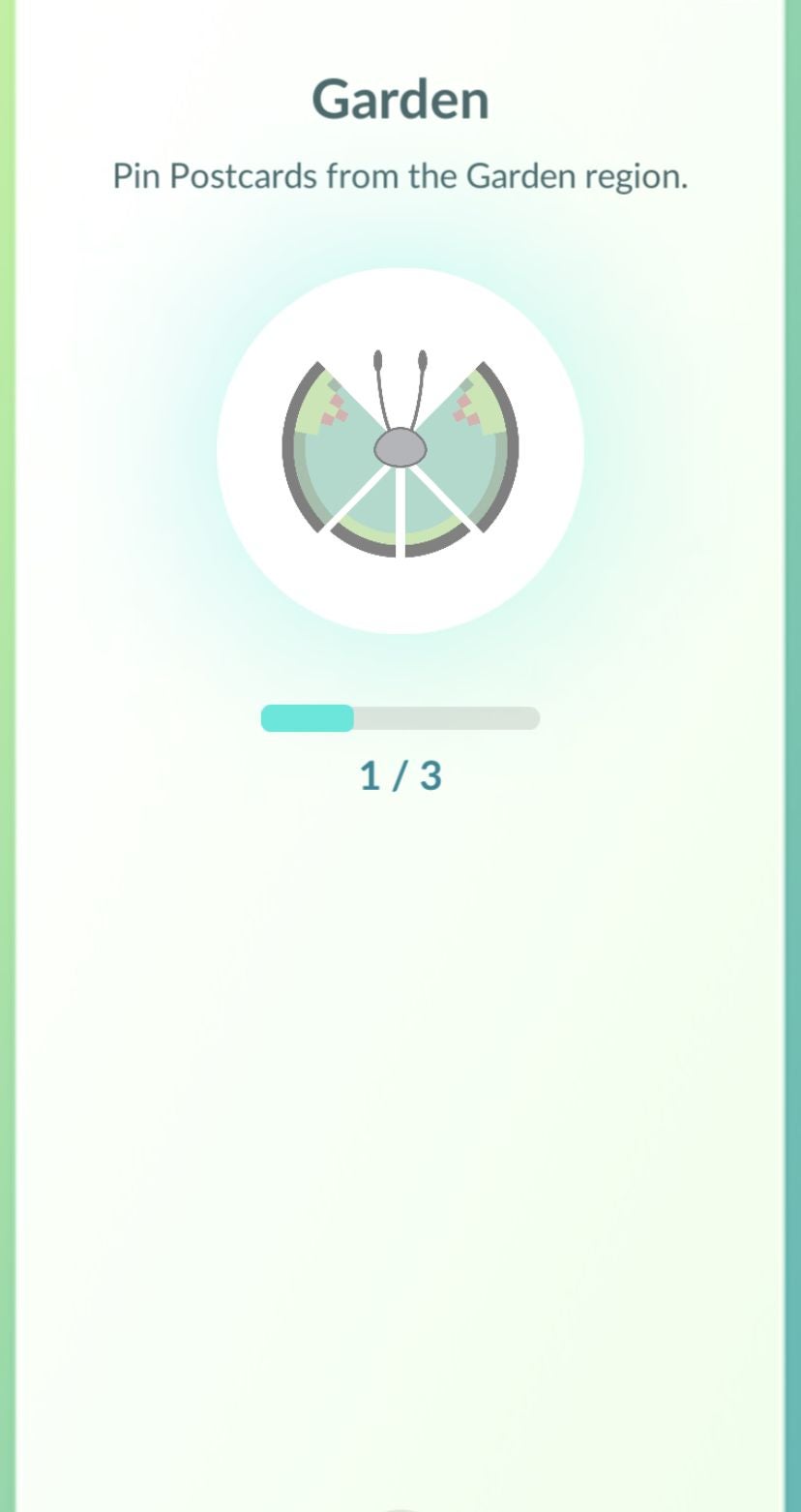 You will also notice that the pattern Scatterbug is associated with will be highlighted above the evolve button. This will help you decide which ones you want to develop, but what does this development require?
How to get Spewpa and Vivillon in Pokémon Go
To evolve Scatterbug into Spewpa in Pokémon Go, you need 25 Scatterbug Candy. After this you need an extra one 100 Scatterbug Candy to evolve Spewpa into Vivillon.
Since you can't get Scatterbug like a normal wild Pokemon, we recommend that you always use Pinap Berries when catching it. This will double the amount of Catch Candy you receive!
You can also bank up your Scatterbug encounter so you can catch them during double-catch candy events, like certain Spotlight Hours or Community Days. Using Pinap Berries during events with this bonus will further increase the amount of candies you receive.
It's also a good idea to have Scatterbug as a buddy Pokémon, because it will earn one candy for every 1 km you walk with it.
Finally, always remember to attach the postcards before opening presents to earn more Scatterbug encounters.
Pokémon Go Vivillon patterns are listed
There are 18 Vivillon patterns you can collect in Pokémon Go, and each one is connected to a selection of regions from around the world.
To collect all the patterns, you need to befriend players from all over the world and pin the postcards they send you from these different regions. This will give you encounters with Scatterbugs that can evolve into different Vivillon patterns!
A good way to make friends from around the world in Pokémon Go is to request friend codes on The Silph Road subreddit or use apps like Poke Genie, where you'll be connected to random players when you participate in Remote Raids.
Here are all the Vivillon patterns currently available in Pokémon Go, and in the section below you'll learn which regions they're associated with: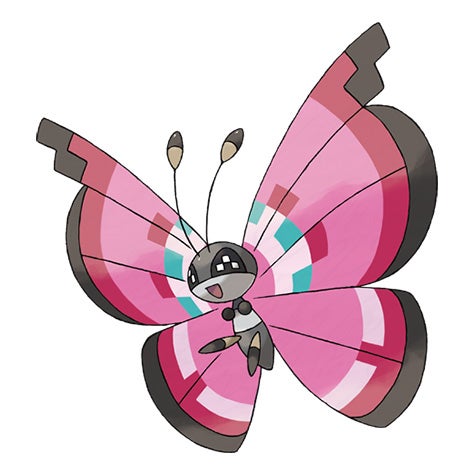 Archipelago
Continental
Elegant
Garden
High Plains
Freezing snow
Jungle
Navy
Meadow
Modern
Monsoon
ocean
Polar
River
Sandstorm
Savannah
Sun
Tundra
---
The Season of Mythical Wishes continues with the Winter Holiday event, which has brought Mega Glalie to Pokémon Go. Don't forget to take part in the new Go Battle League season. Elsewhere, be sure to use the Daily Adventure Incense for the chance to meet Galarian Articuno, Galarian Zapdos, and Galarian Moltres.

---
Vivillon regions and maps in Pokémon Go
Below you will find the map showing which Vivillon patterns are associated with each region. This map can also be found in-game both in the Vivillon Pokédex entry and via the Vivillon Collector's Medal.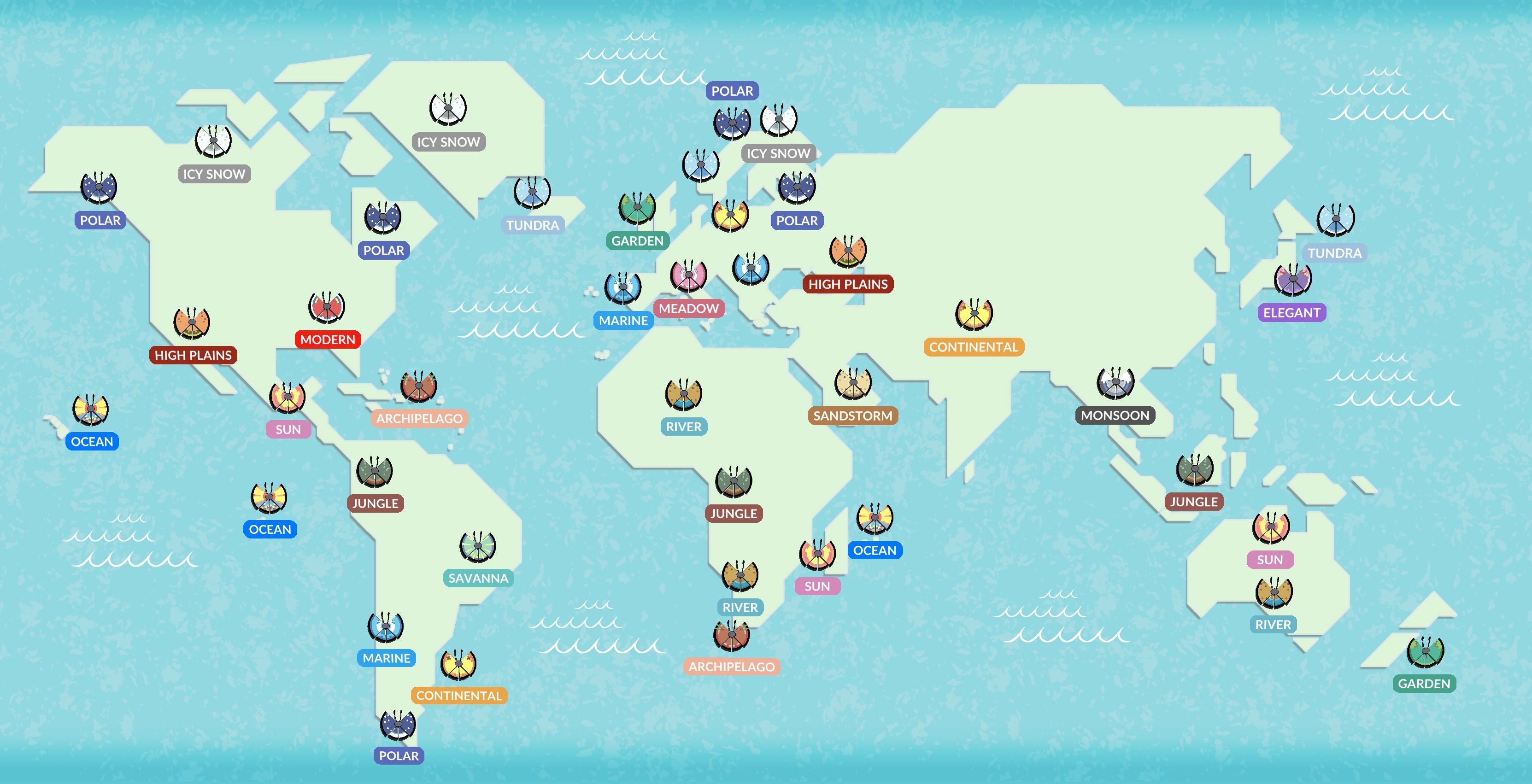 Here we have broken down the Vivillon regions in a table to make it clear which pattern is associated with which regions:
Good luck collecting Vivillon patterns in Pokémon Go!

To view this content, you must enable targeting cookies.