Realme 10 Pro Plus 5G review: Is this phone worth buying?
Realme 10 Pro Plus 5G Review: Tech giant Realme has expanded its smartphone portfolio with the launch of the Realme 10 Pro series. One of the two models in the new range is the Realme 10 Pro Plus 5G (or Realme 10 Pro+ 5G). Since the sale of these smartphones started today on Flipkart, here we are going to tell you all the details about which will help you understand whether this Realme phone is worth the price or not. Stay tuned with us to find out all the details related to it.
Realme 10 Pro Plus 5G: Price in India
The phone we reviewed has 8 GB of RAM and 128 GB of ROM (storage capacity). This Realme 10 Pro Plus 5g is available for Rs 25,999 on Flipkart. It is available in Dark Matter, Nebula Blue and Hyperspace Gold color options. Hyperspace Gold (the one we reviewed) attracts fingerprints and smudges easily. But the fact is that there are very few people who use phones without back covers. So it's only a concern for those who don't like to use back covers.
Realme 10 Pro Plus 5G: Design, screen, sound and weight
The phone looks amazing and what adds to its beauty is a two-sided curved profile. The phone is quite thin (only 7.78mm) and feels very comfortable while being carried in the hand – despite having a large 6.7-inch screen. The very important thing to mention here is that the Realme 10 Pro Plus 5g is quite light and weighs only 173 grams. This is when it is powered by a large 5000 mAh battery. The company claims that it is the thinnest 5000mAh battery smartphone ever released globally.
The phone has a camera module with two rings in the upper left corner which gives it a classic look. The SIM card tray is also located at the bottom end of the phone, just next to the charging port.
The smartphone comes with a refresh rate of 120Hz with curved vision and 93.65 percent screen-to-body ratio. However, the Realme 10 Pro Plus gives you three screen refresh rate options – auto selection, high and standard. It should be noted that a high refresh rate consumes more battery.
A very important point to note is that it has a flicker-free OLED screen. This means your screen won't flicker in low light.
While the screen quality is quite good, dual stereo speakers on both ends of the phone provide very good sound quality. Streaming content from Netflix or Amazon Prime is no problem.
Those who spend a lot of time watching movies or web series will love it.
Realme 10 Pro Plus 5g: Camera
The Realme 10 Pro Plus 5G has a triple camera setup on the back, with a 108MP primary camera sensor along with an 8MP ultra-wide-angle sensor and a 4cm ultra-macro sensor. On the front, the phone has a 16 MP camera sensor.
The picture quality of this phone is quite good – in daylight. Don't expect much in low light conditions. Likewise, the ultra-wide-angle sensor and macro lens work just fine.
There are some very cool photo editing features that will help users improve their photo quality. Some of them are AI palettes and retouching – to increase eye size, eye brightness, remove dark circles and teeth whitening.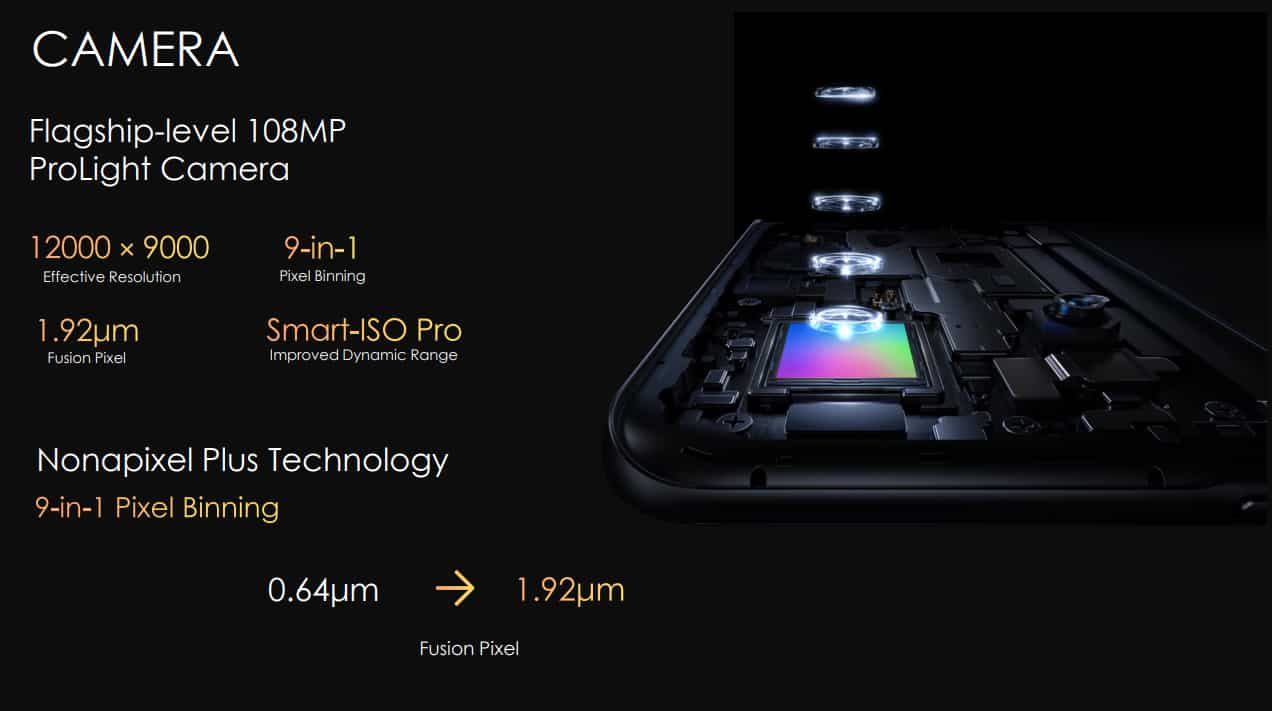 Realme 10 Pro Plus 5g: battery and charging
Realme 10 Pro Plus 5g supports 67W fast wired charging, which the company has called SUPERVOOC. Interestingly, the phone comes with an 80W charger in the box. The phone has a massive 5000 mAh battery and it will take over 1 hour to fully charge. The one important thing to highlight is that other smartphones with 33W chargers take almost as long to fully charge a phone with a 5000mAh battery as the 67W charger that comes with the Realme 10 Pro Plus 5g.
A fully charged, it can easily last for a day despite very heavy use. Those with basic use can use it for two days.
Realme 10 Pro Plus 5g: Processor
The phone is powered by MediaTek Dimensity 1080 5G SoC paired with Mali-G68 GPU. It runs Android 13 with Realme UI 4.0 on top. The phone works seamlessly and you can easily perform several tasks at the same time.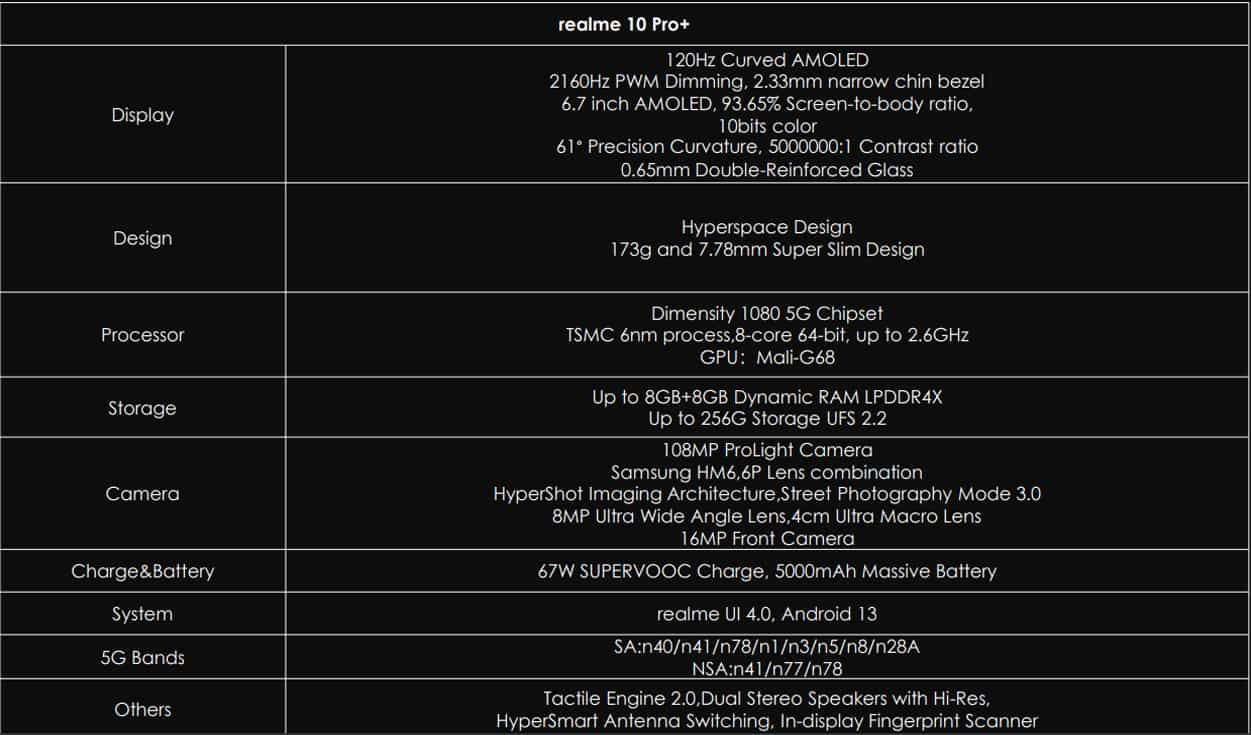 Realme 10 Pro Plus 5g: Some cool features
Quick launch helps you launch your favorite icon immediately after unlocking the screen. All you have to do is slide your finger quickly to the icon in the quick launch menu. It's worth mentioning that you can add five of your favorite apps to the menu.
Another useful feature is the 'smart side panel' and flexible windows and quick return.
Realme 10 Pro Plus 5g: Security
The phone comes with an under-display fingerprint sensor and face unlock. Both features are very responsive and the face unlock is amazing. However, the face unlock feature will not work in low light.
Realme 10 Pro Plus 5g: Things you won't like
The phone comes with too many preloaded apps and it will keep you suggesting apps.
The phone comes without ingress protection (IP) ratings – which define water resistance.
Realme 10 Pro Plus 5g: review
Overall, the Realme 10 Pro Plus 5G is a good mid-range smartphone, but it definitely needs improvement on certain fronts.