Reggie Watts Calls Dave Chappelle's "Joyless" Comedy⁠—"Hack Jokes"
Reggie Watts has urged Dave Chappelle to "consider a different approach" to his current social commentary and accused him of using "big" "hack jokes."
The comedian and bandleader of The Late Late Show with James Corden tweeted out his thoughts about Chappelle on Tuesday night, before going on to explain his thoughts to social media users who disagreed with his opinion.
Chappelle has been hit with accusations of transphobia in the past, but his recent performance has continued Saturday Night Live was called "anti-Semitic" by many Jewish people and groups.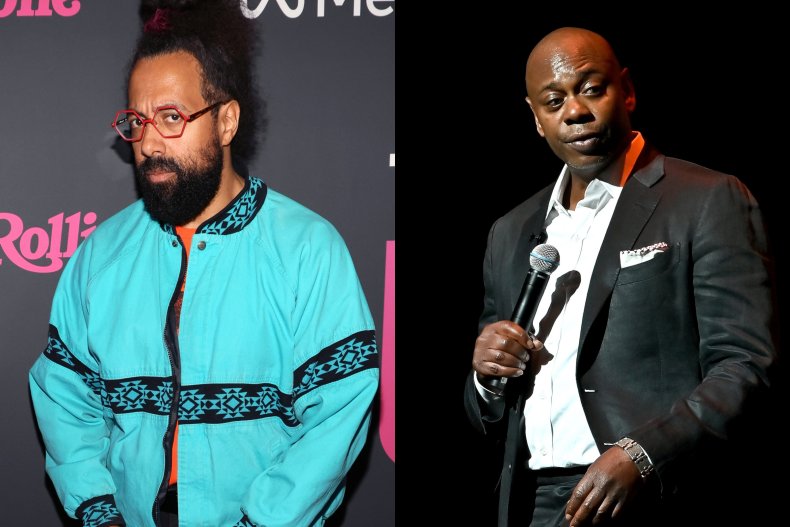 "Damn @DaveChappelle," Watts wrote on Twitter late Tuesday. "I hope you consider a different approach to your current social commentary. It feels joyless and lacks the enlightenment you used to inspire. I understand the idea of ​​crossing the line, but there are many more subversive yet unifying ways to do it."
His first tweet sparked discussions, in which Watts began to engage.
When a Twitter user suggested that "anyone in comedy is fair game," Watts responded, suggesting there was a difference. "You're right everything in comedy is fair game, but hacking jokes at the expense of others is certainly not unifying in any way, it just sounds big," he said.
The 50-year-old comedian and musician Watts is not known for speaking out on social issues, although he was praised in 2020 for an emotional exchange he shared with Corden about racism.
Judging by the frequency of Watt's responses and engagement around Chappelle's tweet, it's something he feels strongly about. Reactions to Watts' stance ranged from agreement, to further questioning, to insults directed at him.
After a user questioned the "hack jokes" comment, Watts clarified his feelings towards Chappelle, and to his recent controversial SNL monologue. "I agree that 94% of his set was funny, but he keeps leaning into topics that he must know are negatively sensitive. Maybe he thinks he can overcorrect? Which could be tactics depending on the outcome," Watts wrote.
Others suggested that as a comedian, Chappelle has no responsibility to "be careful" about what he says during a stand-up set.
"When you have a big platform and you say things that are challenged by enough people, I think it should be addressed in some way," Watts replied. "That's just me. He can do what he wants. I just like to see a good discourse of which there seems to be very little."
He added in a separate tweet to a similar comment: "I would argue that someone with a platform as big as his has some responsibility for what they put out there. At the end of the day he can do whatever he wants but why not use your powers for improvement?"
When asked if his first tweet was written in response to Saturday's episode of SNL, Watts stated that it has been an ongoing issue for several years in his opinion.
"Everything I say is done from a place of love, which was clearly stated in the first text. It is an invitation to discuss the responsibilities performers have when facing direct challenges from fans," Watts wrote.
Chappelle's appearance on SNL over the weekend proved divisive and many praised him, while others, like StopAntisemitism Executive Director Liora Rez said he delivered a "disgusting opening monologue."
Rez told Newsweek: "Chappelle has normalized the anti-Semitism spewed by Kanye West last month, which often manifests in real-world violence. Who gave Chappelle the green light for the disastrous hate speech? Where are Lorne Michaels and NBC Universal CEO Jeff Shell when it comes to keeping Chappelle responsible?"
Newsweek has reached out to Chappelle's team numerous times for comment. We've also reached out to Watts for further comment on his stance.
Have a tip for an entertainment story that Newsweek should cover? Let us know via [email protected]