It's already been a few weeks Spotify released its popular Wrapped recap of the year, but those who also happen to have Snapchat accounts have the added opportunity to use a lens to showcase their Spotify listening personality type. Many users have gotten a kick out of sharing their Wrapped results on social media apps like Facebook, Instagram and Twitter. One of the new highlights included in the feature is a visual card dedicated to a Spotify user's music listening personality, which is a fun little twist on their musical preferences based on their activity on the app.
To unlock Spotify's personal Snapchat lens, users must generate and access their Spotify Wrapped 2022 summary. To do this, launch the Spotify mobile app, open 'Searchtab and press2022 wrapped up' genre tile. There should be a section there that says:Your Wrapped is here' — tap it and see the stories of 'My listening personality' card appears on the screen (it's probably the penultimate Spotify Wrapped card in the series, in case users want to skip ahead). Wait for the actual result to appear and press 'Share this story' button that appears at the bottom of the page. Finally, from the many sharing options available, select 'Lens' with the Snapchat logo. This will only be available if Snapchat is installed on the same mobile device as Spotify.
Related: Spotify Wrapped Listening Personality: All the Types and What They Mean
Use Spotify Wrapped's Snapchat lens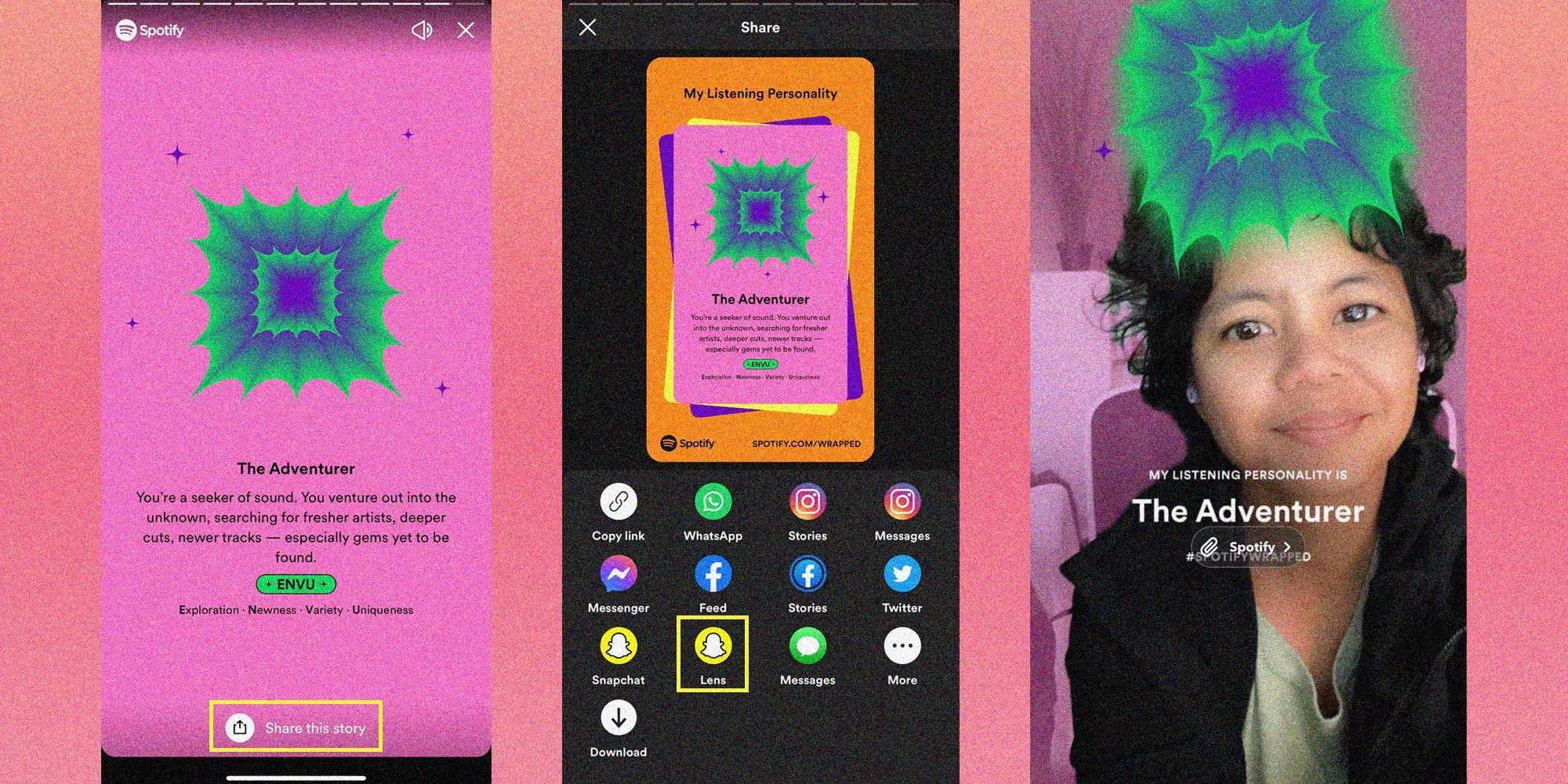 To continue using the new Snapchat lens designed specifically for Spotify Wrapped enthusiasts, confirm the share action to automatically launch the Snapchat app. A pop-up should appear asking for permission to paste results from Spotify. Once provided, the user's listening personality results should automatically appear on the screen, along with the associated title and graphic symbolizing the result.
For most Snapchat fans, lenses are a lot of fun to use as it allows them to use different camera effects to produce fun photos and videos that they can share with their friends. For businesses, the ability to partner with the social media app to create exclusive lenses featuring a new product – like an upcoming movie or a new food menu item – is a great way to create buzz around their brand, especially if the lens achieves viral status . In Spotify's case, the 'My Listening Personality' lens effectively reinforces the fact that people who use the music platform regularly can expect an in-depth analysis of their musical journey throughout the year. At the very least, it's a fun way to interact with other Snapchat users and compare Spotify Wrapped results.
More: Not happy with Spotify wrapped results? How to prepare for next year
Source: Spotify